Workshop
2022 Storytelling Workshops (PERTH)
BOOK NOW
Done right, stories have the power to do extraordinary things.
They make us laugh, they make us cry. They move us in ways we can sometimes never expect.
Everyone's got a great story, but not everyone is adept at telling one. For every good story, there are a dozen bad ones – don't let it be yours.
How can you avoid telling stories that are cheesy, overly heartfelt, boring, inauthentic and difficult for people to engage with? YOU LEARN FROM THE BEST.
This is a hands-on creative development perfect for dipping your toes into the storytelling waters or finding new stories if you're a seasoned pro.
Through a series of written & verbal exercises, facilitator Andrea Gibbs will help you FIND YOUR STORY; a story that's worth telling and one that will connect with your audience.
She will give expert feedback along the way, and very clear steps on how to CRAFT YOUR STORY to make it pop! Walking you through her personal template for structuring a truly audience-worthy story, you will be armed with the confidence to give it a go yourself.
FIND YOUR STORY
1st Saturday, 9:30am-1:30pm
CRAFT YOUR STORY
2nd Saturday, 9:30am-1:30pm
NOTE: The workshop takes place over two Saturday mornings. There is a break between sessions to allow students time to develop/refine their stories. The class size is limited to allow maximum individual attention & storytelling practice time for each student.
Suitable for both beginners & advanced, age 15+.
The Teacher:
Barefaced Stories co-creator, ABC radio presenter & comedian Andrea Gibbs lives & breaths storytelling. Whether she's in the studio or on the stage everything she does is about spinning yarns and pulling them out of the people around her.
"Gibbs is a revelation!" – The Australian
As a TEDx speaker and coach, she and has worked with over 1000+ students from all industries and walks of life. As well as many corporate clients including ANZ, Bunnings, Chevron, Woodside, WA Police and The Mental Health Commission.
She founded Barefaced Stories in 2010 and has been bringing unforgettable true stories to SOLD OUT audiences all over the world since 2010. From New Zealand to Texas. Melbourne to Albany. She knows which stories entertain, what surprises and most importantly how to engage an audience.
Andrea starred in Black Swan State Theatre Company's production of Animal Farm adapted by Van Badham in 2021.  And her debut play is in production for the 2022 season, it's called Barracking for the Umpire.
She is also the brains behind the Think Back Stack
VENUE:
WA Museum Boorla Bardip
In the heart of the Perth Cultural Centre "a place to share Western Australia's many stories. Our people, our places and our role in the world."
Event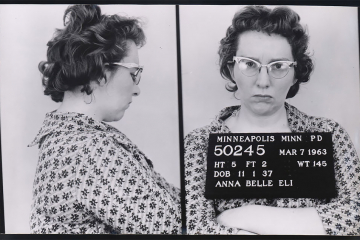 Trouble never comes alone. Busted, caught red-handed, seized – whether innocent…