Barefaced Stories for Business.
We provide workshops, presentations and training sessions to help you create compelling narratives in your business and work-life.
Learn how to tell better stories, by engaging us with your team or organisation. Whether you're looking to become an engaging keynote speaker or need a storytelling workshop for your team, we can help.
The art of storytelling at work.
"A single great story is worth more than a thousand business cards"
– Andrea Gibbs
Topics we cover:
YOUR BRAIN ON STORY
The science behind why we need to tell stories
How stories motivate us to take action and change behaviour
The types of stories deeply ingrained in our psyches
WHAT MAKES A GREAT STORY
Why do we remember stories, not data?
The most important elements of a great story
Stories that should guide your business communications
CRAFTING A STORY THAT WORKS
5 Tips to Nailing a Killer Story – things you can use to make your stories pop right away
How to make the boring stuff memorable
Using the building block so stories effectively (conflict, dramatic tension & change)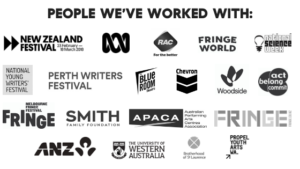 SPEAKER COACHING:
Since speaking at TEDxPerth in 2014, Barefaced co-creator Andrea Gibbs has been a speaker coach for TEDx for 5 years.
Her coaching credits include:
If you'd like help with a keynote or presentation then engage her for speaker and storytelling coaching.
CURATED EVENTS:
Looking for speakers for your event?  Captivate your audience with our storytellers.
We many access to many great speakers and can cater to the theme to your event.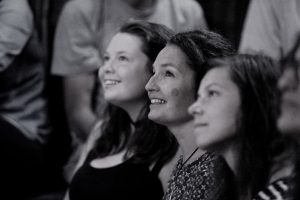 Book US FOR:
Workshops
Keynotes
Curated Shows
Coaching
Editing & Feedback
BUT NOT FOR:
Boring Stories
Therapy
Evil causes
Table top dancing
Doing your drycleaning
The Barefaced Stories workshop has been one of the best uses of my time, Andrea is an amazing teacher – James, PR & Digital Marketing Manager
The workshop was more than just a workshop. It was about delving into our lives, discovering the pivotal moments that make us who we are. It was about connecting with others and discovering the vast human experience within a small group of people. I walked away feeling I knew more about myself and the human spirit & I thought it's amazing what a story can do – Wendy, Mother
Barefaced stories gave me the tools and confidence to be able to craft my anecdotes into fantastic captivating stories. Andrea was a great facilitator and shared her experience and expertise to ensure an amazing workshop where the skills I learned are invaluable – Gill, Sex Worker
Through Andrea's exercises, I was able to identify that even those seemingly inconsequential life experiences we all have can be crafted into engaging and entertaining stories – Marie, Arts Professional
An inspiring, bold and honest experience that will stay with you – Marielle, Marketing & Sales/ Tour Leader
It was an awesome experience, I strangely learned so much more about myself – and I got to do it with such a supportive group of ex-strangers! – Stephanie, Creative Director
It was wonderful to open up the story channels and hear some amazing heart-songs from the most unexpected people – Christine, Landscape Architect
I can honestly say that I learned a lot about myself and about other people during a weekend which was a lot of fun – Malcolm, Historian
The Barefaced Stories weekend provided a grounded, well-structured and inspired space that became filled to the brim with generous and reassuring personal tales. Being so supported to share our diverse experiences brought all participants together in appreciation of what makes us all singularly, and collectively, human – Linda, Albany participant
Before I attended the Barefaced workshop I didn't think that I had any really remarkable stories to share. I learned that every story that happens to us is remarkable to someone because everyone is touched by different stories in different ways. Our stories shape us to be who we are today and they are worth telling – Jodie, comedian & mother 
Becoming part of the barefaced community will change your life. It gives you permission to be authentic and value what you have to share and be open to listening to a variety of stories that are all important – Lisa, Teacher
You'll have an existential crisis, you'll laugh, you'll remember long-forgotten tales but most importantly, you'll have a blast and the enigma of storytelling will be revealed – Georgie, Economist
It should be the skill most active in our daily lives, the ways we share and learn. Andrea helped each of us to strip back the layers of what our lives are made up of and deliver fragments of expression in story form. Practice, reflection, and planning… – Anonymous
It is rare to have such an honest, heartfelt experience with a group of strangers and this workshop was just that. I learned a lot as a storyteller and as a listener. Andrea helped us to feel comfortable and share in something really authentic and I definitely feel more ready and able to share stories! – Anonymous
A word from Andrea Gibbs (facilitator):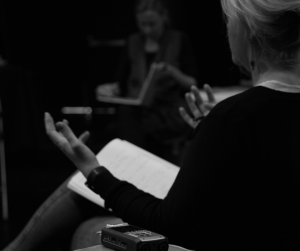 Everyone has a story – you must learn how to tell it.
As an actor, broadcaster and the Director of Barefaced Stories, I live and breathe storytelling and it is at the core of everything I do.  I was even able to bring Cate Blanchett to tears using one!  It's not easy making an Oscar winner cry, but someone's gotta do it.
Stories have the power to bring people together, help us connect and feel less alone in the world. Comedy, improvisation and acting are all reliant on outstanding storytelling skills. My secret to being an acclaimed comedic actress is having the ability to be an effective storyteller.
My storytelling career kicked-off after winning Triple J's Raw Comedy State Final in 2003. I became a core member of Perth's premiere improv-comedy ensemble The Big HOO-HAA! and have worked with some of Australia's best comedians, improvisers and actors.
"One of the most exciting, funny, unique and talented comic performers I've had the good fortune to stumble upon" – TIM MINCHIN
In 2010, Barefaced Stories came to life. Using my storytelling skills, I partnered with Kerry O'Sullivan to deliver unique storytelling workshops and sell-out events all over Australia and online. We also deliver corporate shows and professional development training, including team building events and how to create a compelling narrative in your business.
Combining acting, comedy and storytelling skills, we show you how to find your own story and share it with the world. Through storytelling, you can understand yourself and your team better.
Whether you want to be entertained or are ready to step out of your comfort zone, I hope to inspire you to share and really connect with those around you"
Andrea is currently completing her second Bachelor's Degree, at the School of Psychology at UWA, majoring in Neuroscience.
Keen to stay in the loop?
Get the latest from frank