– mobile story studio –
The chin wagon
Since 2010, Barefaced Stories has been collecting true stories for the stage, building a unique picture of Australian lives today. Now we are adding some of the most intimate conversations between friends and relatives to that oral library.
This year we custom-built a traveling recording studio — The Chin Wagon —and next year we hit the road launching our first cross-country tour to capture the nation in conversation.
As part of The Story Exchange project, our bespoke story studio will be visiting cities and towns across Australia recording the stories of the people who live there. And we want to hear your stories.
On the road, we will be looking for participants to bring a loved one (or friend) into The Chin Wagon to have the conversation of a lifetime.
For tour dates and how information on how you can get involved, read on.
Beautiful things happen when we make time for real conversation.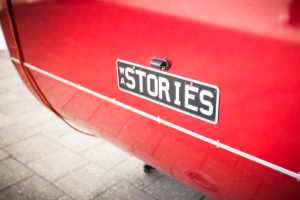 GET INVOLVED
Intrigued?  Tempted? Perhaps you know someone with a great story or there may be something that you've always wanted to talk to.
The Chin Wagon is a place to celebrate happy moments, reflect on memories and capture the stories that you want to be part of history and the recording couldn't be easier!
You invite a loved one (or anyone else you choose) into the Chin Wagon to share a 40-minute conversation.
What you talk about is completely up to you, however, we're there to guide you through the process and give you a list of great questions to get the conversation started.  Or, if you don't fancy surprising yourself and your partner, you can use our Think Back Stack for story prompts.
This project is about creating space for you and a loved one to have the conversation you always meant to have – and it's a lot of fun!
NEXT STOP:
PARTNER WITH US
We are looking to partner with local radio stations, cultural institutions, and community-based organizations to get the word out.
The Chin Wagon is great for site activation, community engagement and preserving your community's history.  Using our content production services we can create segments and audio cards from the stories we collect to boost your social media.
Other ways to get involved:
Become a Presenting Partner
Co-brand with your logo on The Chin Wagon
Sponsor us
For more information on any of these options contact Andrea Gibbs, andrea@barefaced.com.au for more details.
2020
Albany | Jan 19-23 | Partner: Albany Entertainment Centre
Perth | Feb 1-9 | Partner: State Theatre Centre of WA
Highway to Hell | Mar 1 | Partner: Perth Festival
Geraldton | April 9-12 | Partner: Queens Park Theatre
Keen to stay in the loop?
Get the latest from frank